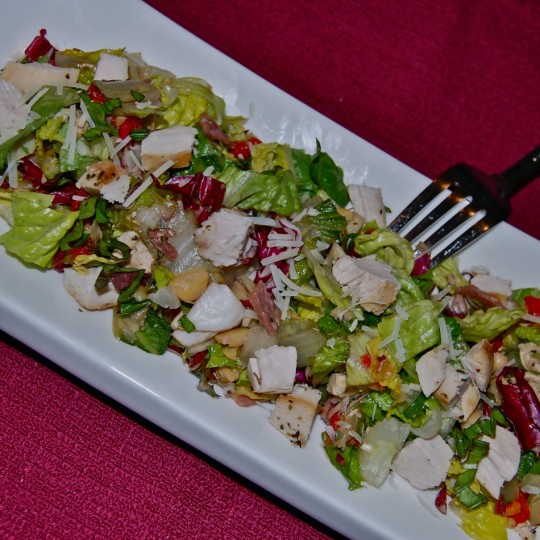 Chopped Salad – makes 4 servings
Try this popular and trendy salad found on restaurant menus all over town.  Our version is, of course, lower in calories and has optimum protein for a complete dinner meal.  Enjoy on the LCD or MD.  For those of you on the VLCD, eliminate the garbanzo beans for now to keep your carbohydrate grams low.
Ingredients Needed:
For the salad:
Chopped lettuce, 8 cups (romaine, butter, radicchio, endive)
Garbanzo beans, 1/2 cup, chopped finely
Red peppers, fire roasted, 1/2 cup, chopped finely
Artichoke hearts, packed in water, 1/2 cup, chopped finely
Olives, Kalamata, pitted, 10, chopped
Kraft 2% Italian Three Cheese, shredded, 1/4 cup
Fresh parmesan cheese, shredded, 1/4 cup
Salami slices, 60% reduced fat, 8 slices, finely chopped
Fresh basil leaves, 1/4 cup, chopped
Chicken breasts, boneless, 12 oz, seasoned with 4 T. lemon juice, salt and pepper, (about three chicken breasts) cooked, and chopped
For the dressing:
Extra virgin olive oil, 2 T.
Mayonnaise, 1 T.
Lemon juice, 4 T.
Italian seasoning, dried, 2 tsp.
Salt and pepper
One small garlic clove, minced
Assembly: 
In a bowl, season the raw chicken with lemon juice, salt and pepper. Let marinade for about 20 min.
Mix the ingredients for the dressing in a small bowl or pitcher and set aside.
After the chicken has marinated, grill in a non-stick pan for 8-10 minutes, until cooked.
Once cooled, cut the chicken into very small bite-sized pieces.
In a salad bowl, add all the ingredients and mix gently.  Add the salad dressing, and mix again.
Divide the ingredients into four servings and serve with a garnish of fresh basil leaf and lemon wedge
Nutritional Analysis:  Each serving contains approximately 330 calories, 31 grams of protein, 11 grams of carbohydrates, and 18 grams of fat.
Leave a reply →