Did You Know You Can Manage, and Often Reverse, Your Diabetes Through Weight Loss?
Not many people know about this and it's time they do! Through effective weight loss, many of our patients are able to manage diabetes, get off medications, and live a healthier life. Our three-phase, medically supervised program can help you too through safe and reliable medical care.
Our Experience Demonstrates Diabetics Benefit from Our Low Carbohydrate Program!
A restricted carbohydrate (very low carb) diet in overweight diabetics will induce reduction of fat mass, weight loss, and lower blood sugars resulting in decreased need for diabetic medications.
Our Experience with Low-Carbohydrate dieting for weight loss and long-term low carbohydrate eating for weight maintenance:
Prediabetes – reversal of impaired fasting glucose commonly occurs
Diabetes – reversal in some cases of early diabetes
improved sugar control – lower blood sugars in 100%
Medication dose reduction 75%
Medication discontinuation of at least one medicine 33%
Decreased complication rates
Symptomatic improvements in
Renal function
Vision
Neuropathy (if done before permanent nerve damage occurs)
Quality of life
Obesity associated conditions (Asthma, Sleep apnea, arthritis pain, etc.) once insulin was introduced.
Weight Gain and Associated Increased Diabetes Risk
For women:
| | |
| --- | --- |
| Weight Gain | Risk of Diabetes |
| + 10 lbs. | 1.5X |
| + 20 lbs | 2X |
| + 30 lbs | 5X |
For Men:
| | |
| --- | --- |
| Weight Gain | Risk of Diabetes |
| + 10 lbs. | 2X |
| + 20 lbs | 4X |
| + 30 lbs | 6X |
Weight Loss & Diabetes Risk:
| | |
| --- | --- |
| Weight Loss | Decrease in T2DM Risk |
| 11 pounds | 50% |
| 22 pounds | 90% |
References: Bray. Obesity 2013; 21:897; Hamman. Diabetes Care 2006; 29:2102.
Benefits to Diabetics from Low Carbohydrate Weight Loss Program:
Improved T2DM control manifested by:

Lower Fasting blood sugar
Lower glycohemoglobin
Improvement in insulin resistance
Reductions in insulin, & other medication dosages
Discontinuation of some diabetes medications

Improvements in associated conditions

 Obesity
Non-alcoholic steato-hepatitis (NASH)
Arthritis
Sleep apnea
Asthma

Improvements in cardiac function

Lower systolic and diastolic blood pressure
Decreased left ventricular mass6 and volume
Decreased carotid artery intimal thickness
Improvement in left ventricular dysfunction

Improvements in lipids

↓LDL cholesterol
LDL shift to large particle size
↓Triglycerides
↑HDL cholesterol

Reduced mortality from cancer, CVD, and all-causes
Improved Quality of Life
Getting started is as easy as 1-2-3! Here's what you can expect within your program: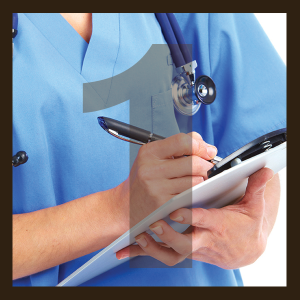 Step 1: Clinical Assessment
You will meet with one of our medical practitioners who will assess your medical history, health, EKG and complete lab work.  With this information, an individualized weight loss plan will be developed for you that will help your body quickly respond to weight loss, improve your energy, and get your started towards a healthier you.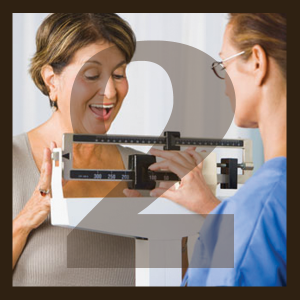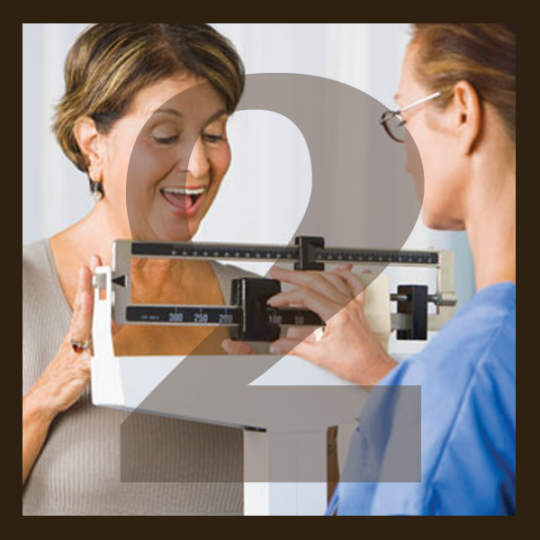 Step 2: Weight Loss
In this phase, you will be placed on a meal plan designed for your needs.  In the beginning, our broad range of meal replacements are delicious, nutritious tools containing high quality protein with a low sugar content to use in conjunction with your own foods so you can quickly lose those stubborn pounds.  Some of you may need extra help and because we are a full service medical center, we are able to prescribe anti-obesity medications to assist with your weight loss needs.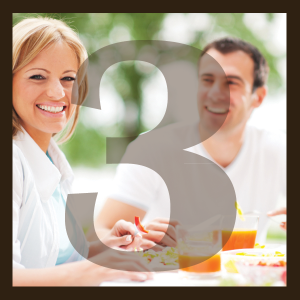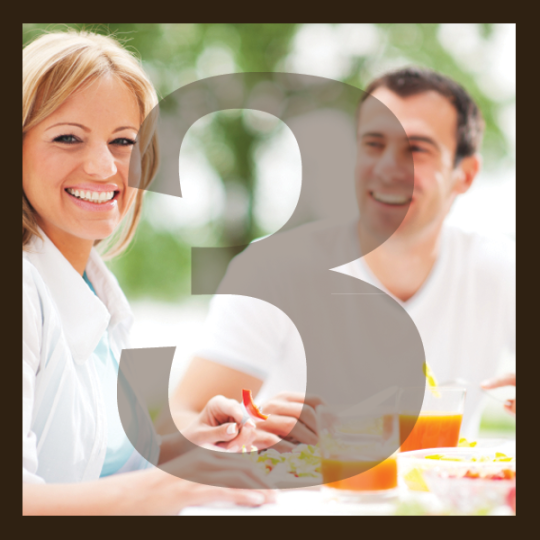 Step 3: Lifelong Weight and Health Maintenance
Our patients have a better than average long-term success rate because we work with them individually throughout their program.  As the weight quickly sheds, we consult on healthy eating choices for the home meals, eating out and on-the-road.  We provide patients with access to an expansive recipe library and educate them about nutritional vitamins and mineral supplements to improve the weight loss process and overall health.
But don't take our word for it.
This is Piper's story.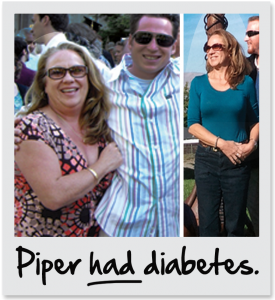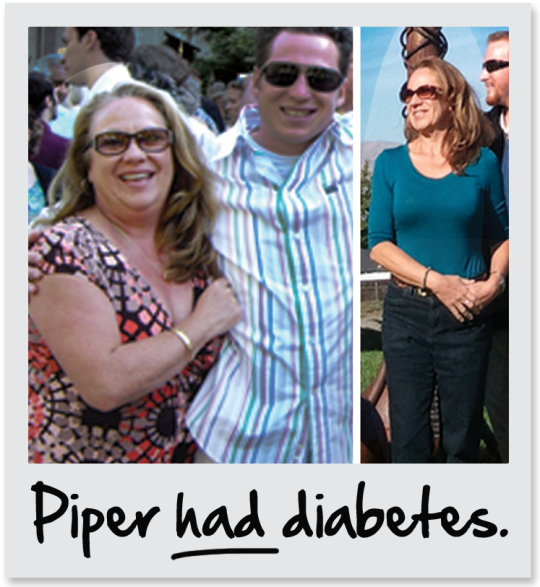 In October 2010, Piper made a decision. Tired of taking medication for her diabetes, hypertension, and elevated cholesterol, she knew that if she lost weight, these conditions would improve and she would feel better. She called us for help.
Within 6 months, Piper dropped 50 pounds, reversed her diabetes, hypertension and elevated cholesterol, and no longer needs medications. She reduced her body fat to normal, uncovering her smaller person and restoring her self-confidence. Piper finally learned how to lose the weight and maintain it successfully.
Today, Piper is enjoying life and bike riding with her husband again. Eliminating diabetes was her ultimate goal but she received so much more by using our proven methods for life-long success.
* Individual success varies depending on factors including age, weight, and length of diagnosis.
So what are you waiting for? You have nothing to lose but diabetes, medications, related health complications, and excess weight!
Three months from today, you'll be glad you made the decision to take back control of your life!
Call Us at 916-773-1191 or
Make An Appointment Today: