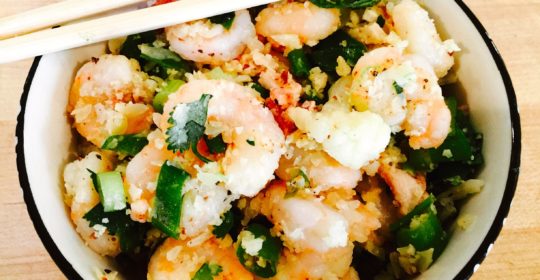 From crust to rice, I've heard rumors that you can make just about anything with cauliflower.  By replacing flour and other rapid insulin-producing grains with this healthy cruciferous vegetable, you can greatly reduce your sugar intake and improve overall health.  Not being a fan of cauliflower (actually I avoided it as much as possible, I must confess, I was pleasantly surprised that I could create something so delicious with this odd tasting vegetable.  Bottom line-this recipe rocks!  Mix it up.  Add some Sriracha; replace butter with sesame oil; replace lemon juice with soy sauce; add chopped cucumber or bean sprouts.  Makes 6 servings.  Each serving contains approximately 36 grams protein, 5.5 grams net carbohydrates and 15 grams fat.  300 calories.
Ingredients:
One head fresh cauliflower grated to a rice-like texture (I use a cheese grater but you can use a food processor as well)
2+ pounds wild shrimp, raw, small (70-90 count) peeled and deveined
1 cup diced yellow onion
1/4 cup butter
8 slices thick bacon, raw
2-3 garlic cloves, minced
one cup chopped raw green onions
1 cup chopped fresh cilantro
1/4 cup lemon juice
Salt and pepper to taste

Instructions:
Cook the bacon in a large saute pan.  Remove bacon and chop into bite-sized pieces.  Remove half of the bacon fat from the pan; add cauliflower and onion and saute over medium-high heat.  Stir often for 3-5 minutes until cauliflower and onion are lightly browned but still crunchy.  Remove from pan and set aside.
In same pan over medium-low heat, add butter, garlic and shrimp; cook until fish is just pink.  Don't overcook.  You may need to cook shrimp in two batches if the pan is not large enough.  Turn heat off pan and stir in the lemon juice.  Add all the ingredients to the shrimp and mix together.  You are ready to serve.
Download at Shrimp & Cauliflower Fried Rice
Leave a reply →