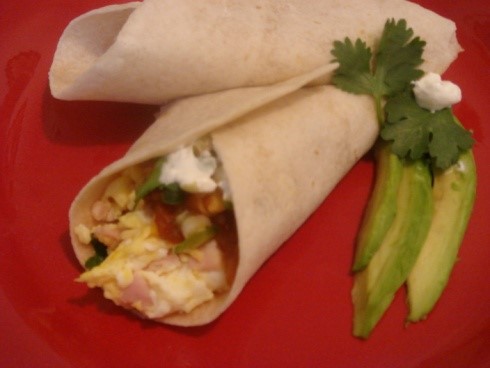 Breakfast should never be skipped.  This spicy low-carb egg burrito is a great alternative to the minimally nutritious breakfasts most Americans eat, especially our kids (cereals, donuts, coffee drinks, juice/toast, etc.).  The Spicy Egg Burrito contains approximately 30 grams of proteins, 14 grams of usable carbs, and 14.5 grams of fiber.  It is a simple to shop for, easy to make, tasty breakfast that meets your nutritional requirements recipe.  Not for the VLCD.
Ingredients:
1 tortilla, Mission Carb Balance brand, soft taco size
2 whole eggs, slightly beaten
2 slices Canadian style Bacon, chopped
1 ounce reduced fat Cheddar Cheese, shredded
Fresh salsa, chopped green onions, chopped cilantro, sliced jalapenos, an avocado slice, dollop of light sour cream – all optional
Salt and pepper to taste
Instructions:
Mix chopped bacon with egg mixture.
In a heated non-stick pan, add egg/ham mixture and lightly scramble until cooked, 2-3 minutes.  Don't overcook.  Turn off heat under pan and let eggs rest.
In microwave, heat tortilla on a plate for 10-15 seconds.  Remove.
Layer cooked egg mixture, cheese, avocado and salsa on the warmed tortilla.
Sprinkle green onions, chopped cilantro and sliced jalapenos as desired.
Salt and pepper to taste.  Enjoy!
Download at Spicy Egg Burrito
Leave a reply →