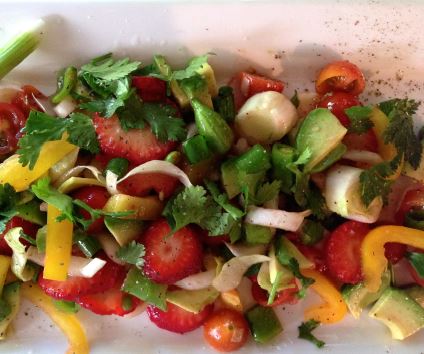 Officially, May is the month to celebrate Cinco de Mayo and Mother's Day.  Unofficially, I believe mothers should be celebrated everyday because we are a pretty awesome species!  So this May, Serve the special woman in your life Super Foods "Ceviche" to help keep her fueled for any task at hand.  Ceviche traditionally describes a Spanish appetizer of raw marinated fish; my version of this dish contains an array of healthy, antioxidant-rich raw marinated vegetables and fruits that are both delicious tasting and good for you.  What's not to love about avocados and strawberries?  Enjoy on any of the Key Diets.
Ingredients:
One whole avocado, sliced
Two cups sliced strawberries
One yellow or red pepper, thinly sliced
Two cups cherry tomatoes, halved
One cup diced cucumbers
One cup diced sugar snap peas or snow peas
Four green onion stalks, thinly diced
1/4 cup fresh cilantro leaves
1/4 cup olive or avocado oil
1 garlic clove, minced
Juice from one whole lime
Zest from whole lime
Instructions:
For the dressing, whisk together the oil, garlic, lime juice and zest.  Season with salt.
In a separate bowl, add all the vegetables together, except the cilantro.  Gently stir in the dressing, refrigerate and let it marinate until ready to serve, up to 4 hours.
On a serving platter, arrange the marinated "ceviche" and top with fresh cilantro.  Sprinkle cracked pepper over the entire dish.  You are now ready to serve it up to your Mother!
Variations:  This dish makes a perfect meal served up with a piece of grilled salmon, a skewer of grilled prawns, or some "raw fish".  For a Spanish kick on Cinco de Mayo, add jalapeno slices and diced jicama.
Makes 4 servings, each containing approximately 3 fat servings and 10 net carbs.
Download at Superfood Cevich
Leave a reply →