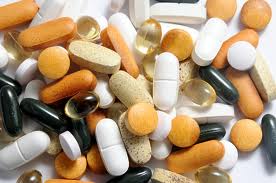 You are not alone.
Many of our patients can be overwhelmed by the vast array of supplements we recommend:  direct effect, indirect effect, antioxidants, anti-inflammatory, essential fatty acids, fat burners, fish oils, sleep aids, hormone replacements, etc.  You might be asking yourself right now, "Is supplementing really necessary?"  We say, "Yes!"
Supplementing is a preventative approach to maintaining and improving health in addition to improving your chances of successful weight loss and long-term weight maintenance.  And as new scientific evidence is reported every day, supplement recommendations will continually be updated.
The average lifespan is getting longer and longer each year.
In order to live a quality life at a healthy weight during those extended years, you will need to adopt an optimum eating style, which includes supplementing your diet with quality products that will reduce or retard the oxidative process that occurs in your body over time from aging, poor diet, stress, and environment.  This oxidative process promotes an inflammatory state in the body, especially when obesity is present, which blocks the ability to burn fat and build muscle in addition to promoting degenerative illnesses including heart disease and some cancers.
Do not be concerned with weight issues alone, but ultimately long-term health – living longer and living healthier.
For our purposes, we can divide these vitamins and minerals into two groups— ones that have a direct effect on health and weight loss, and ones that have a direct effect on health, but an indirect effect on weight loss by improving health. We know ill health, or almost any illness, will impede weight loss and make weight maintenance more difficult. Anything that improves health in the long run will help with weight loss and weight maintenance.   Ask us how you can improve your health!  Call today.
Review the attached supplement hand-out for guidance on what supplements might be best for you.  For those of you on a medically supervised diet plan, please consult with your practitioner or nutritionist for appropriate recommendations.