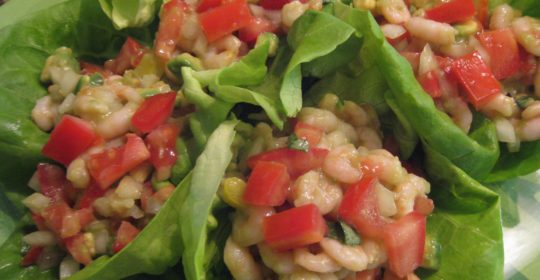 This quick Shrimp N' Salsa Cup refreshing meal takes about five minutes to prepare, is inexpensive to make, and has a great presentation when served.  Look like a gourmet chef with minimal effort:  Did I mention it tastes great too?  Each serving contains approximately 30 grams of protein, 10 grams of fat, and 8 grams of carbs.  Enjoy on any of the Key Diets today.
Ingredients Needed:
6 oz cooked bay shrimp or prawns
1 medium tomato, chopped
1/2 medium avocado, chopped
1/4 sweet onion, chopped
Jalapeno peppers, as many as you like
Fresh squeezed lime or lemon juice
Garnish of chopped cilantro, basil or any other herb
Butter lettuce or cabbage leaves
Preparation:
Rinse lettuce and pat dry.  Mix the chopped ingredients with the shrimp; season with salt, pepper, and fresh lime juice.  Place the shrimp salsa mix atop 3 or 4 lettuce leaves.  Serve chilled.
Change it up:  If you like, toss it all in a bowl and pour over a bed of lettuce, use pre-made salsa in place of the chopped vegetables, or use chicken instead.
Download at Shrimp N' Salsa Cups
Leave a reply →