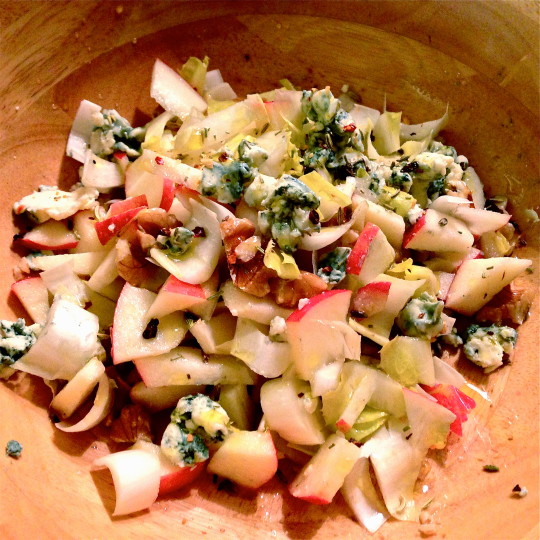 I just love the winter flavors of fresh, crisp apples, walnuts and endive mixed with some delicious Gorgonzola cheese.  Toss this salad with some greens for a holiday salad or add some turkey from Thanksgiving for a scrumptious lunch or dinner.  Enjoy!
Ingredients:
For the dressing:  1 T. olive oil, 1 T. white balsamic vinegar and ½ teaspoon Napa Valley Meritage seasoning.
3 heads of Endive lettuce (best price at Trader Joe's)
1 small red apple, diced with skin left on
5 walnut halves, chopped, about a half an ounce
¼ cup gorgonzola or bleu cheese crumbles
2 cups of lettuce (Arugula, Romaine, or Butter leaf)
* Optional 9 ounces shredded or cubed cooked turkey or other protein 
Instructions:
Mix the salad dressing with all the ingredients together except for the greens. Toss some salt and pepper in to taste. Let the flavors mingle for about 5 minutes; then add the greens.  It's that simple!  You are ready to enjoy a delicious autumn flavored lunch or dinner.
Nutritional Analysis:
Each salad serving contains approximately 35 grams of protein, 7 grams of net carbs, 2 grams of fiber, 23 grams of fat, and about 375 calories.  (4 fat servings in this dish)
Paula Hendricks, Nutritionist-C, copyright hfhrecipe11/12
Leave a reply →